26 Sep 2018
We at Oranj Palm love our dogs as much as you love yours. That's why we're so happy that Palm Springs has been named the top dog-friendly vacation destination by Lonely Planet.
Many people hate to leave their dogs behind when they travel, but when you stay with us, you don't have to! We have over 100 homes that are happy to accommodate both you and your furry BFF.
Now that the weather is more mild, people flock to the Coachella Valley to enjoy the many hiking trails and outdoor activities. Lots of hikers love to take their dogs with them on these picturesque treks, like the beautiful South Lykken Trail. For less adventurous dogs, the Palm Springs Dog Park offers 1.6 acres of fenced-in fun to chase those tennis balls. You'll also find many restaurants in the area with outdoor patios that welcome dogs.
So pack up the dog bed and bowl, the Palm Springs area is the perfect place to bring the pooch when you rent a vacation home with Oranj Palm!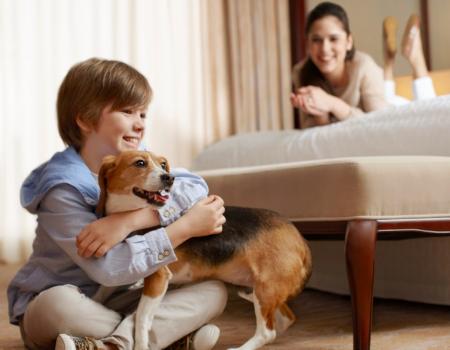 Check out the photo gallery featuring our Oranj Palm family of furry friends.