Important information about COVID-19 (coronavirus)
We know this is a very difficult, stressful, and unprecedented time for everyone.  As the coronavirus situation evolves, nothing is more important than the safety of our homeowners and guests. We're working hard to do everything we can to address your concerns.  
If you are looking for emergency housing related to COVID-19, we have properties available at reduced rates through May 31, 2020. Please email us at reservations@oranjpalm.com or call 760-320-7451. 
We also want to ensure you can book our vacation rentals with confidence, we have increased the rigor of cleaning and sanitizing procedures on our vacation homes to provide our guests with a safe and comfortable stay. Plus, most of our properties offer laundry facilities, bathrooms and kitchens suitable for isolation.  
Please note that our team will be working with each and every guest on how to best handle your upcoming reservation. In an effort to streamline communications please do not send multiple messages as this greatly decreases our ability to respond in a timely manner to the hundreds of guests we are set to host in the coming weeks.  We will be reaching out and responding to guests in the order in which they are set to arrive.  If you have a confirmed reservation, please email questions to frontdesk@oranjpalm.com with your reservation number in the subject line and our team will respond to everyone as fast as humanly possible.
We continue to be in constant contact with the CDC and other health organizations to ensure we follow, and in many cases exceed, their guidance on health precautions related to coronavirus. 
For upcoming reservations, we strongly recommend purchasing the travel insurance we offer, to provide extra coverage and peace of mind.
Have questions about coronavirus, feel free to contact us anytime at info@oranjpalm.com. 
Oranj Palm Vacation Homes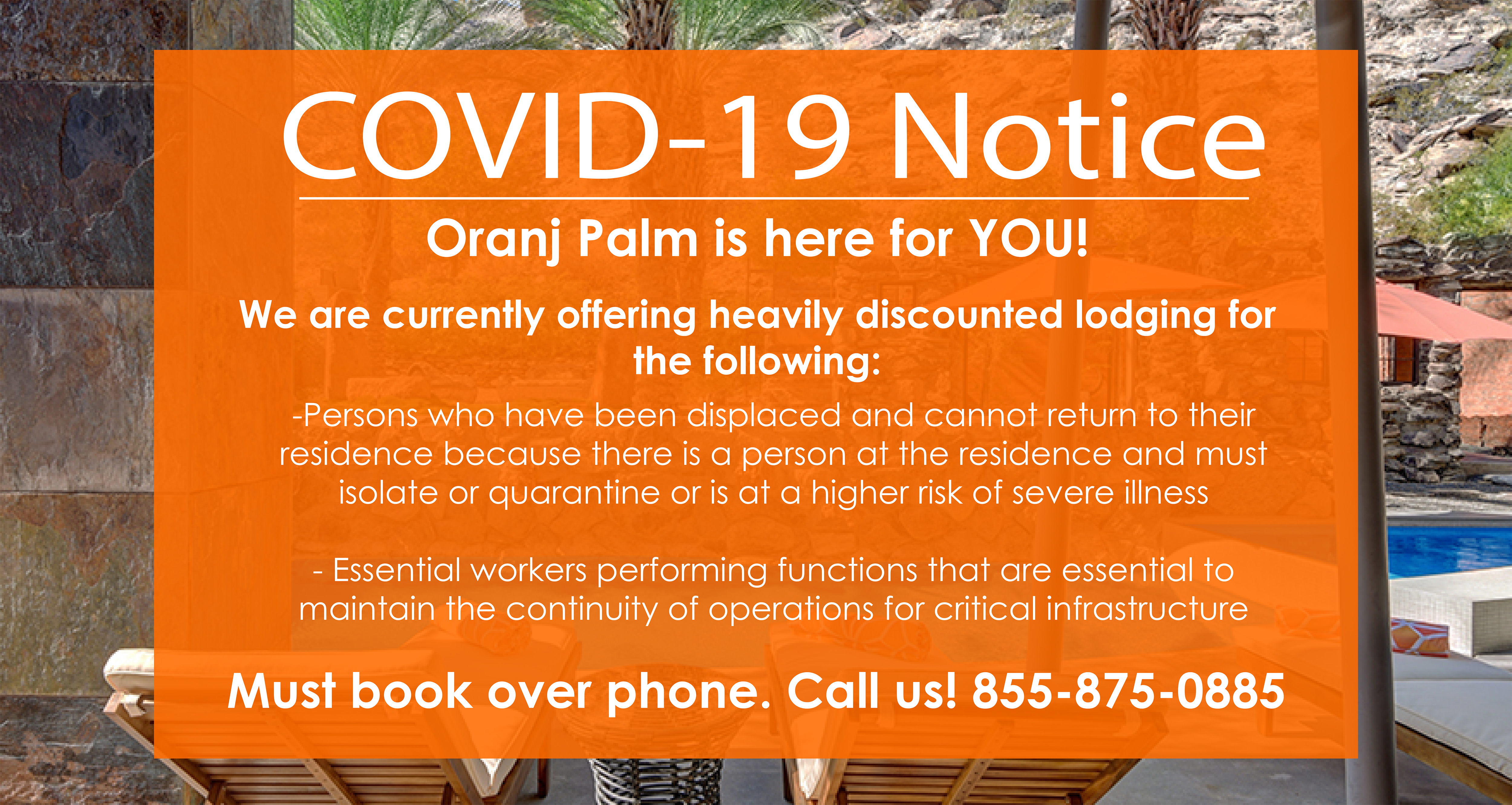 Resources
State and Riverside County officials have released a list of frequently asked questions and responses about the recent orders. CLICK HERE to view. 
The State of California's all-encompassing COVID-19 resource website - https://covid19.ca.gov - features facts about the virus, dos and don'ts, tips.
Other great resources for up-to-date information on the community response to COVID-19 can be found on the following resource sites:
• Greater Palm Springs Convention & Visitors Bureau latest updates
• California Department of Public Health latest updates
• Riverside County Public Health updates
• Visit California's latest talking points